thermitight treatment
Thermitight Treatment – Phoenix, Scottsdale, Mesa, Chandler, Gilbert, Tempe, Arizona
ThermiTight is our best nonsurgical option for tightening loose skin on your face, neck, tummy, and thighs. ThermiTight is an advanced micro-invasive aesthetic procedure which delivers controlled radiofrequency energy under your skin. Heating the area under your skin causes your skin to contract and tighten reversing the effects of aging. If you do not want surgery but are looking for more improvement than nonsurgical skin tightening devices can deliver then ThermiTight is ideal you.
ThermiTight typically takes less than one hour to perform with minimal downtime. A local anesthetic is injected to numb the area we are going to treat. A thin probe is inserted under the skin. The probe deliverer's temperature controlled radiofrequency energy directly to the target tissues causing immediate shrinkage. You will see immediate that will continue to improve over the next several months.
Thermitight will give you Natural, Noticeable Results
ThermiTight will produce a three-dimensional improvement in the appearance of skin laxity after just one treatment. ThermiTight results have been shown to last several years.
ThermiTight will Tighten Sagging Skin on your Face, Neck and Body with Minimal Downtime!
The Beauty of ThermiTight
ThermiTight treatments may cause slight swelling, redness and bruising but you will usually be able to return to normal activity by the next day. Excellent results with minimal downtime.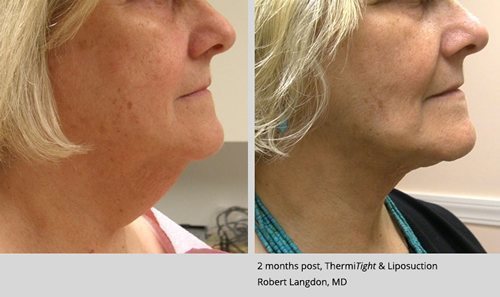 THERMITIGHT INFORMATION
What is ThermiTight?
ThermiTight is the first aesthetic procedure, which delivers controlled thermal energy under the skin to reverse the effects of aging.
Who is the typical patient for ThermiTight?
ThermiTight is ideal for patients who want more results than non-invasive procedures can deliver and DO NOT want surgery.
What are the target areas for ThermiTight?
ThermiTight is great for problem areas of the face, neck, tummy, arms, thighs and other tissues (i.e. bra fat, love handles).
How does ThermiTight work?
ThermiTight is a painless, micro-invasive procedure. A tiny probe is inserted under the skin; then, radiofrequency energy is applied directly to the target tissues causing immediate shrinkage.
Approximately how long does the ThermiTight procedure take?
The entire procedure is typically done in less than an hour depending on the protocol and the treatment zone.
How long before a patient sees results?
Results are immediate and improve over time.
How long do the results of the treatment last?
The effects have been shown to last several years.
What is the downtime and what are the side effects?
Patients may experience slight swelling and redness and are usually able to return to normal activity within 24 hours.
Does It Hurt?
Because ThermiRF uses local anesthetic, some patients experience minimal discomfort during the injection of the numbing agent. After the area is numbed, however, there is little-to-no discomfort. Patients may feel pressure or warmth, but not pain. Swelling and bruising is likely; adhering to aftercare instructions will minimize these effects.
How Long Does It Take?
thermitight treatment are 1-2 hours in length.
How Is ThermiRF Performed?
ThermiRF is an in-office cosmetic procedure. The areas to be treated are numbed with a small amount of local anesthetic. A very small incision is made to allow the radiofrequency fiber under the skin. The fiber heats the target tissues in an effective, safe and controlled fashion. It tightens the skin and diminishes lumpy fat pockets. ThermiRase targets and disables the facial nerves that cause glabellar frowning.
What Are The Key Features Of ThermiRF?
Tightens skin to a much greater extent than any other technology available. Lipo alone tightens skin by a factor of 8. Smart Lipo tightens skin by a factor of 18. ThermiRF tightens skin by a factor of 30+.
Melts small areas of unwanted fat that the body subsequently breaks down and eliminates.
Can be used to quickly and easily tighten jowls, neck, tummy and back.
Performed under local anesthetic.
Can be combined with liposuction in the same session.
Patients can resume their daily routine within 24 hours.
It's a more patient-friendly approach: easier and faster than liposuction or the Laser Neck Lift.
Creates a lasting (1 year+) Botox-like effect for the 11"s (glabellar lines).
Who performs ThermiRF?
A physician performs ThermiRF, an evolution of the radiofrequency based procedures. Find a doctor near you.
When Did ThermiRF Launch?
The procedure has been available since 2012. It is FDA approved for the Botox–like treatment. Approval for the other applications is pending but can be done now on an "off-label" basis.
Who Is A Candidate For ThermiRF?
Candidates for ThermiRF are patients who:
want to significantly tighten their lower face and/or neck without undergoing a larger procedure
wish to experience a Botox-like effect that lasts longer than 3-4 months
have small fat deposits around their middle and need more skin tightening than Coolsculpting and Smart Lipo can provide.
What Is ThermiRF?
ThermiRF is a technology using radiofrequency (heat) energy in unique ways for multiple patient applications, including facial & body skin tightening, fat reduction, and glabellar muscle relaxation. There are four ThermiRF modalities:
ThermiTight: Fat melting and/or tightening of the skin of the lower face, jowls, under eyes and/or neck abdomen, back, arms, knees, etc.
ThermiRase: Long lasting-to-permanent relaxation of the nerves that cause the glabellar ('11s") frown lines. It's like Botox, but it lasts longer (up to 12 months).
ThermiSmooth:takes care of the crows feet and area under the eyes. It also works on the lines next to the mouth.
ThermiDry:a new treatment for under arm sweat.